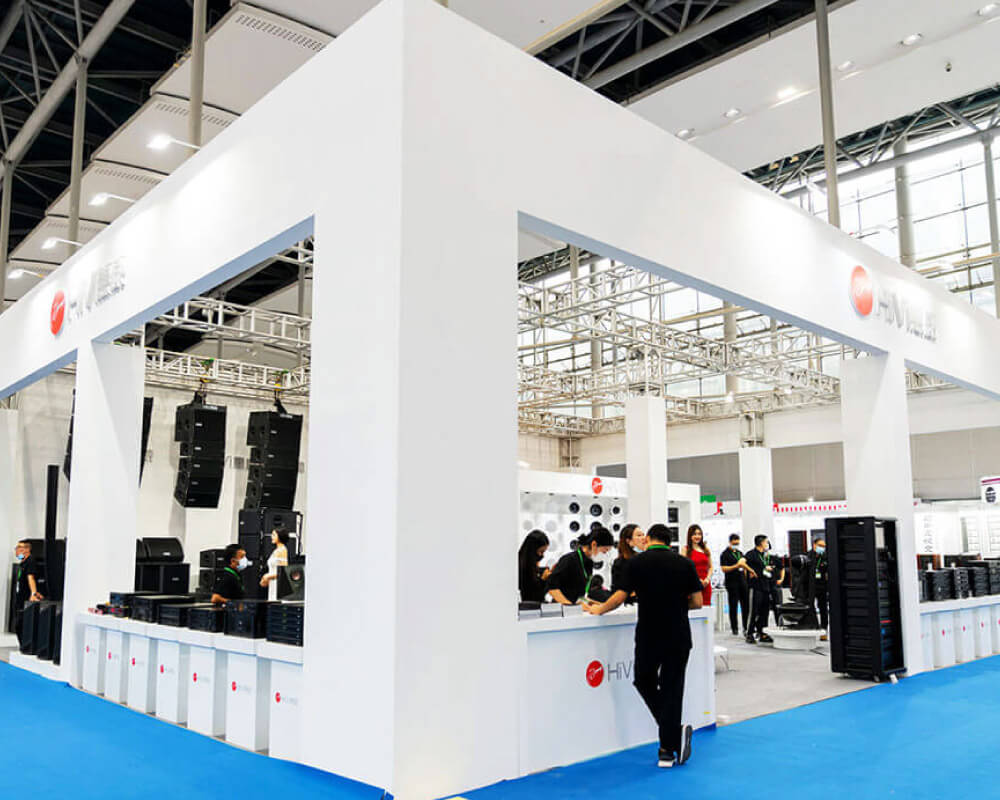 On August 21, 2020, the 18th China (Guangzhou) International Professional Lighting and Audio Exhibition opened grandly in Pazhou, attracting the attention of countless people inside and outside the industry. Hivi, who has been exhibiting for many years, will certainly not miss it this year! In this exhibition, Hivi once again brought its intelligent broadcasting system, intelligent conference system, professional audio, and some active speakers and home theater products to the exhibition. Everyone was impressed by the good sound quality products with professional electro-acoustic technology and innovative technology. The followings are the photos the splendid Hivi showroom!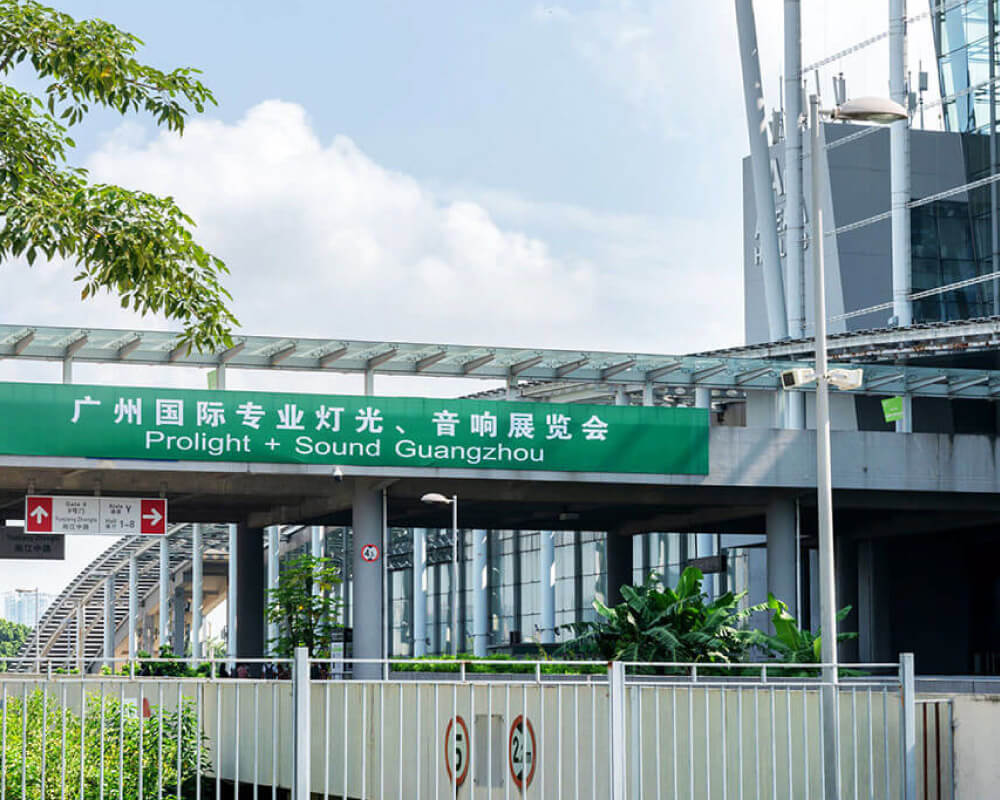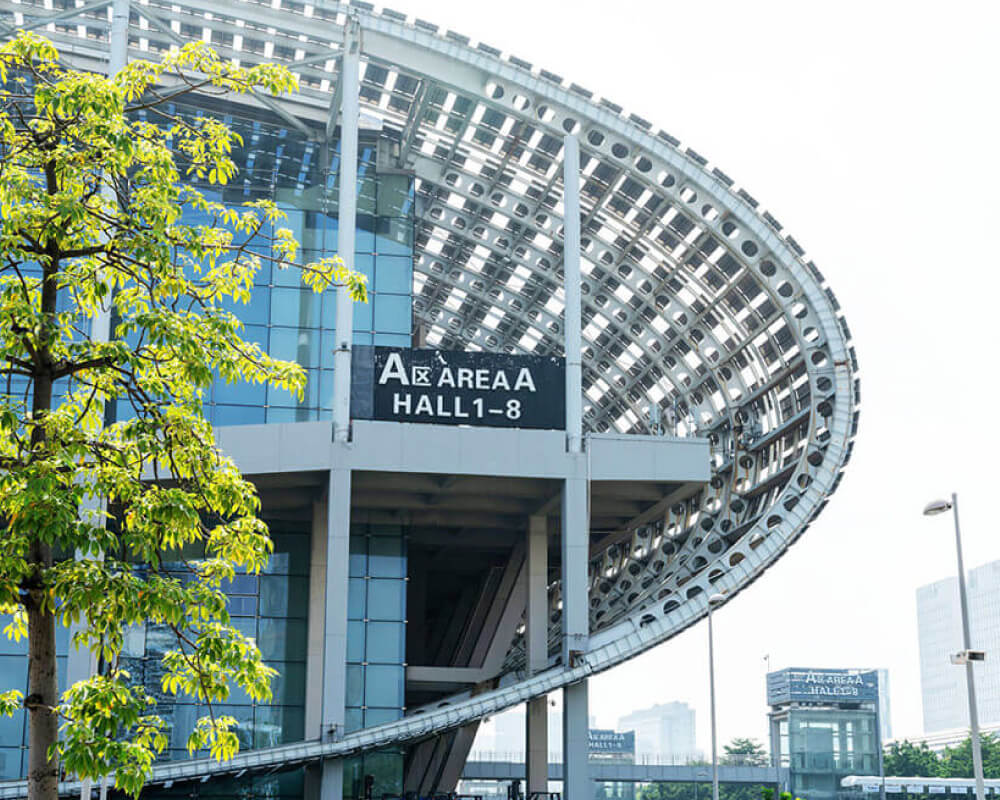 Hivi Exhibition Hall is located at No. B28, 3.2 Audio Brand Hall, Zone A of the Exhibition Hall. The simple and elegant decoration style complements Hivi's exhibits.
Innovative and Advanced Professional Speaker
The most eye-catching product is the Professional Speaker, formally entered the professional field in 2008, and its product series coveres stage sound reinforcement, karaoke, dance hall audio and cinema professional speakers in the entertainment field. Products like WR series, T3/T6/T8 series, HQ series, QA series, etc. were also displayed in show.
First of all, let us take a look at the WR series of waterproof line array speakers, suitable for various indoor and outdoor stadiums, auditoriums, auditoriums, theaters, performing arts halls, multi-functional conference rooms and others. WR uses many advanced design that solves the problem of long-distance propagation through the correction of the wavefront. Its special suspension system enables multiple speakers to be connected quickly to form a good vertical coverage surface line sound source, which is ideal for cooperating with WR ultra-low frequency speakers. The external crossover combination configuration can achieve a good sound reinforcement effect. With IPX6, WR series of products meet the professional sound reinforcement needs with ease in rainy weather.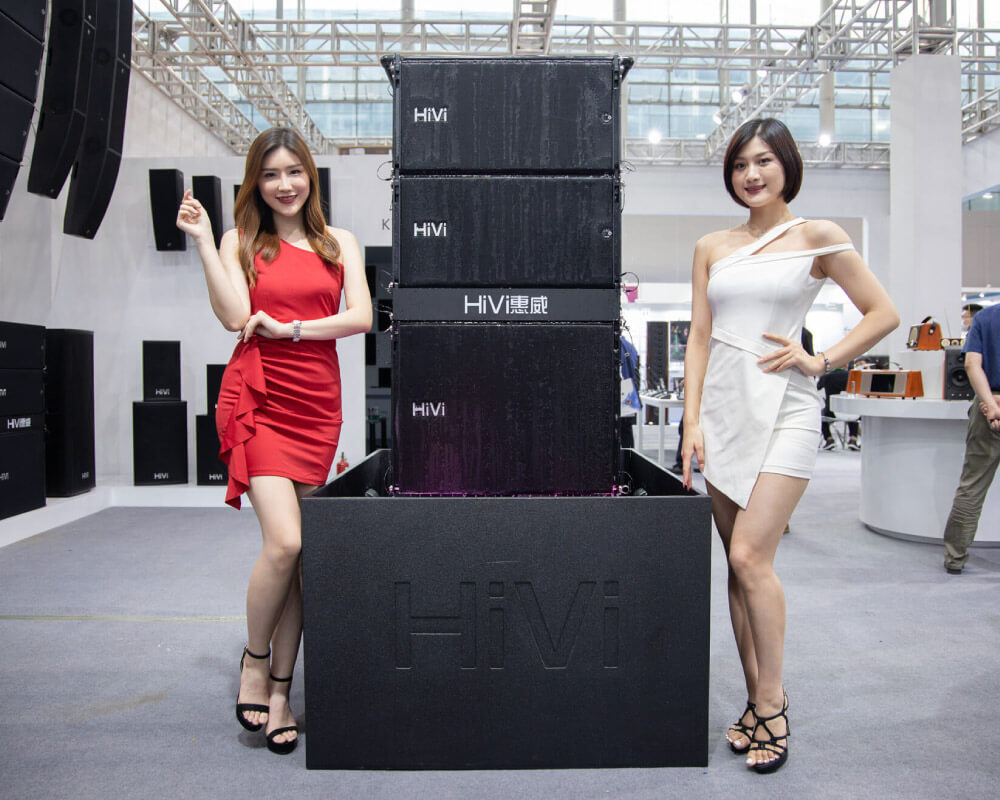 T3 series is not unfamiliar to everyone. As a product that was unveiled last year, it still eye-catching this year. The T6 and T8 vertical array speakers joined T series product together with T3 this time.
As a professional three-way line sound source sound reinforcement system, they are designed for professional sound reinforcement occasions such as conference rooms, multi-function halls, auditoriums, and small and medium-sized mobile commercial performances. Through the correction of the wavefront and the special ring-shaped patented hanging device, the speakers of the same series can be assembled easily and flexibly to form a good array of line sound source sound reinforcement. Built-in professional electro-acoustic technology optimized crossover network creates continuous high sound pressure, high dynamics, and good transient.
T series can support a variety of combinations, and can be expanded with T3S-A and other ultra-low frequency speakers to form a powerful professional line array sound reinforcement system with natural partitions in the near, middle and far fields.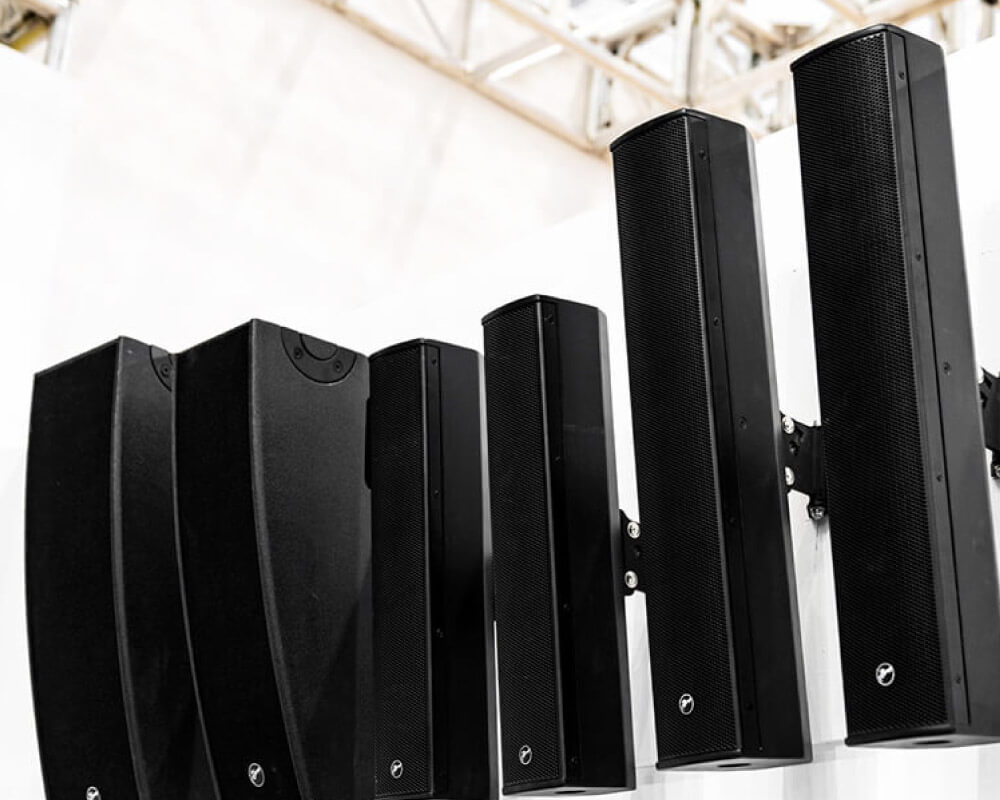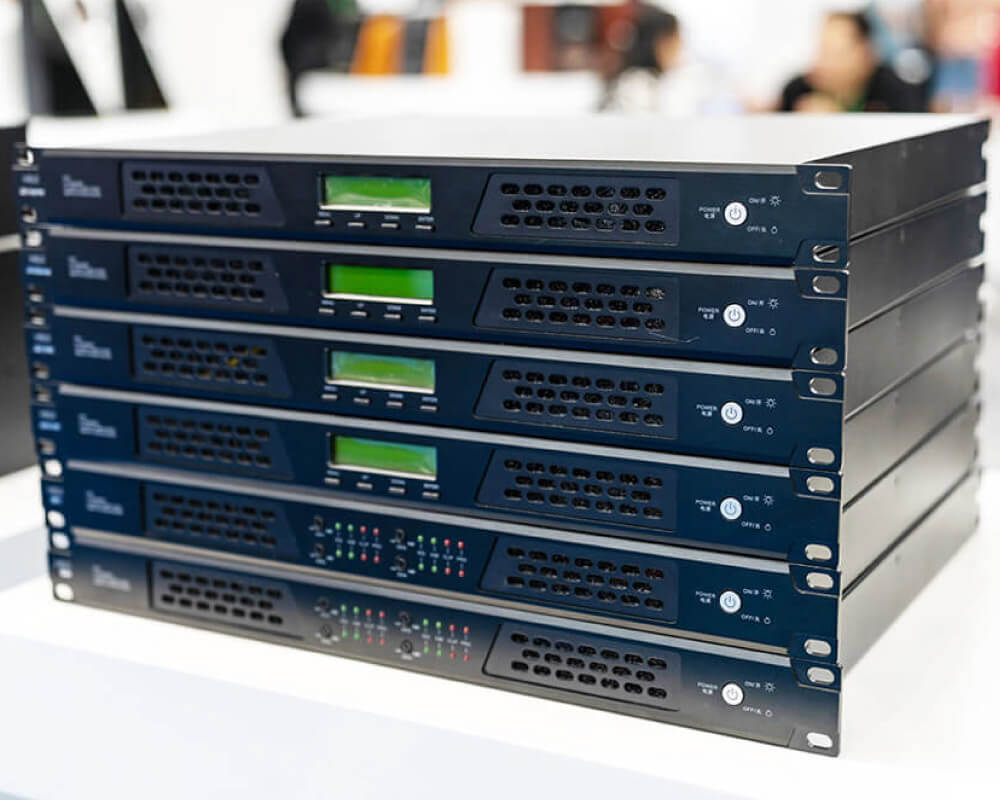 There are also QA series, EX series, LA series professional power amplifiers and other products on show, diversified choices for many users.

QA series professional power amplifier, as a new product that Hivi will launch in 2020, made its first appearance in Guangzhou exhibitors. As a product with industry-leading technical level, it has attracted the attention of many people in the industry and has become a popular product in the power amplifier category at this exhibition.
The QA series adopts Hivi's newly developed high-reliability SMPS power supply and Class D power amplifier. It is equipped with 4 channels of 800W/8 ohm power amplifier engines in a 1U body, and can also be bridged to output 2 channels of 2600W/8 ohm super power. The net weight of the machine is only 8.5Kg, and all imported IGBTs and field effect tubes ensure strong power amplifier and sweet tone.
The QA series has multiple versions to meet different market needs; among them, the DANTE version adopts the most advanced DANTE network transmission and control protocol in the industry, through the PC terminal, switch and power amplifier host network, to achieve a single network cable simultaneous high-speed transmission of 4 channels 96KHz sampling frequency audio signal, the network delay is within milliseconds; built-in imported ADI main control DSP system, through the GUI host computer control software, realize the routing, gain, PEQ, high and low pass, remote switch, etc. of each signal Control; At the same time, it has perfect signal pressure limit, delay and real-time monitoring and control of input and output levels, which can meet the needs of audio systems in various occasions.
DSP-10 two-in-one processor, HA-8300 karaoke combined machine, HD-9300 karaoke combined machine, EX series power amplifier.
Intelligent Broadcasting System·A Dazzling Array of Everything
Since its listing, Hivi's intelligent broadcasting system has been favored by user groups with its outstanding features of high quality and cost-effectiveness. It has a good reputation and provides perfect public broadcasting sound solutions for many units, enterprises and other public places. At this exhibition site, Hivi has brought a series of products with very high market recognition, such as the VQ series, CS series and TQ series that often appear on the shock speaker wall, as well as the very popular IP series and UP series. Of course, in addition, there are also many new products.
First of all, let's take a look at this speaker wall. The three ceiling speaker series units above are products designed by Hivi for customizing excellent home theaters and stylish whole-house/commercial background music systems. Users can choose any HiVi high-performance active subwoofer to set up a multi-channel cinema or background music system with multiple solutions.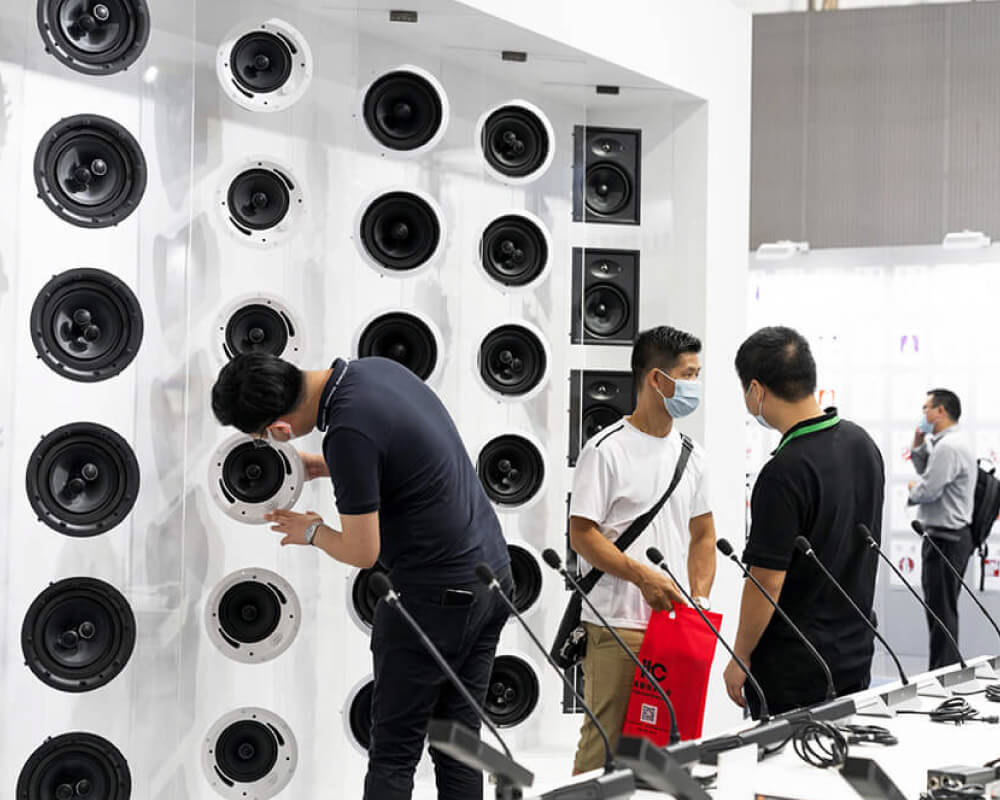 The IP network broadcast series are even more glamorous at the exhibition site and received a lot of attention. Hivi's digital IP network two-way intercom intelligent broadcasting system adopts the world's leading IP audio transmission technology. The IP-9800 series of intelligent digital IP broadcasting completely solves the problems of limited transmission distance, susceptibility to interference, and complicated operation in traditional broadcasting. It is one of the intelligent broadcasting background music systems with wide application, simple structure and excellent performance.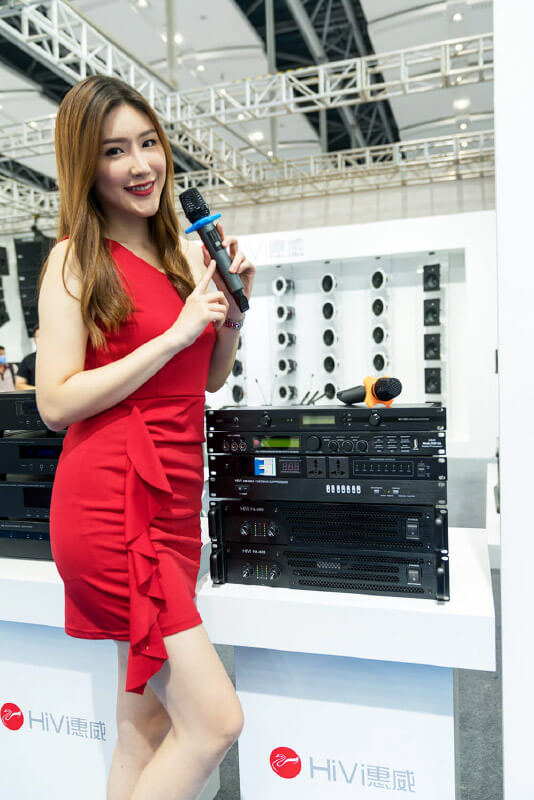 The exhibition also brought PH, PRO series speakers and other products. The PRO series of professional sound reinforcement full-range speakers have the characteristics of greater dynamics, high sound pressure, and multi-angle design. They are matched with Hivi FA-300\400\600\900 The series of high-quality power amplifiers can be combined into a variety of high-quality professional sound reinforcement systems suitable for the needs of various occasions.
Intelligent conference system, a variety of choices
Next, what we see is the products of Hivi Intelligent Conference System. In 2018, HiVi officially entered the field of professional conference systems. Its products cover traditional hand-in-hand, brand-new digital hand-in-hand, brand-new network digital hand-in-hand, wireless digital, network high-definition paperless and so on. Has been unanimously recognized by the market. At this exhibition, the conference system brought 18 products to everyone's eyes.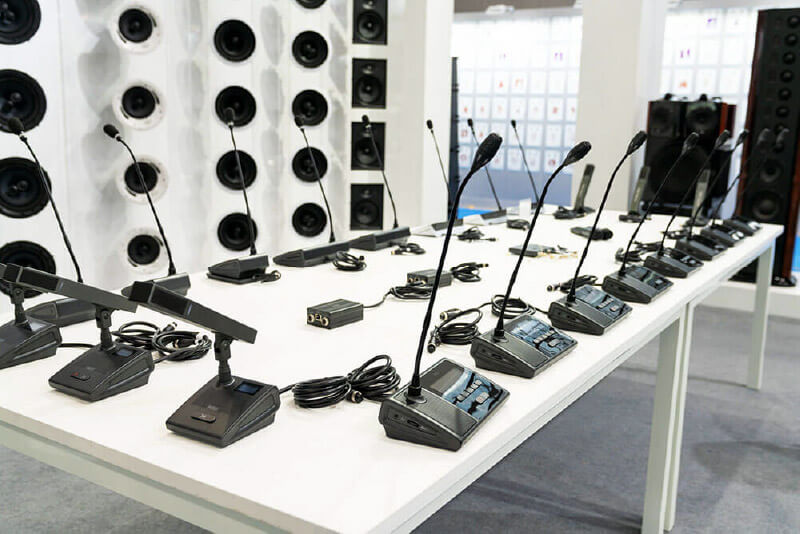 HCS1000 series, HCS1500 series, HCS3000 series and HCS4000 fully digital conference system were displayes on the show. The conference system has been continuously developed and innovated in the past two years. Among them are HCS1001H handheld wireless microphone, HCS1001D dry battery wireless unit, HCS10T wireless waistband microphone, and glory series of conference unit and HCS4100 and digital touch-screen conference units were unveiled. HiVi uses intelligent network digital technology to provide users with a professional conference system that is simpler,
intuitive and flexible and multi-functional. The conference system is fully intelligent, more worry-free and convenient.
Active Speakers, Home Theater with Electroacoustic Technology
Hivi also brought some products of active speakers and home theater series this time, including MS2, the majestic flagship speaker Swans 2.8A, the master active flagship M5A with an 8-inch woofer, the new classic product D300 with high appearance and good sound quality, M200MKII+ and M300MKII, the choice of millions of audiophiles, genuine Smart speakers MC-200, elegant and charming H series and T200MKII high-fidelity active speakers that have been unanimously recognized by enthusiasts, and of course, the classic series Bluetooth FM radio active speakers that are both retro and stylish.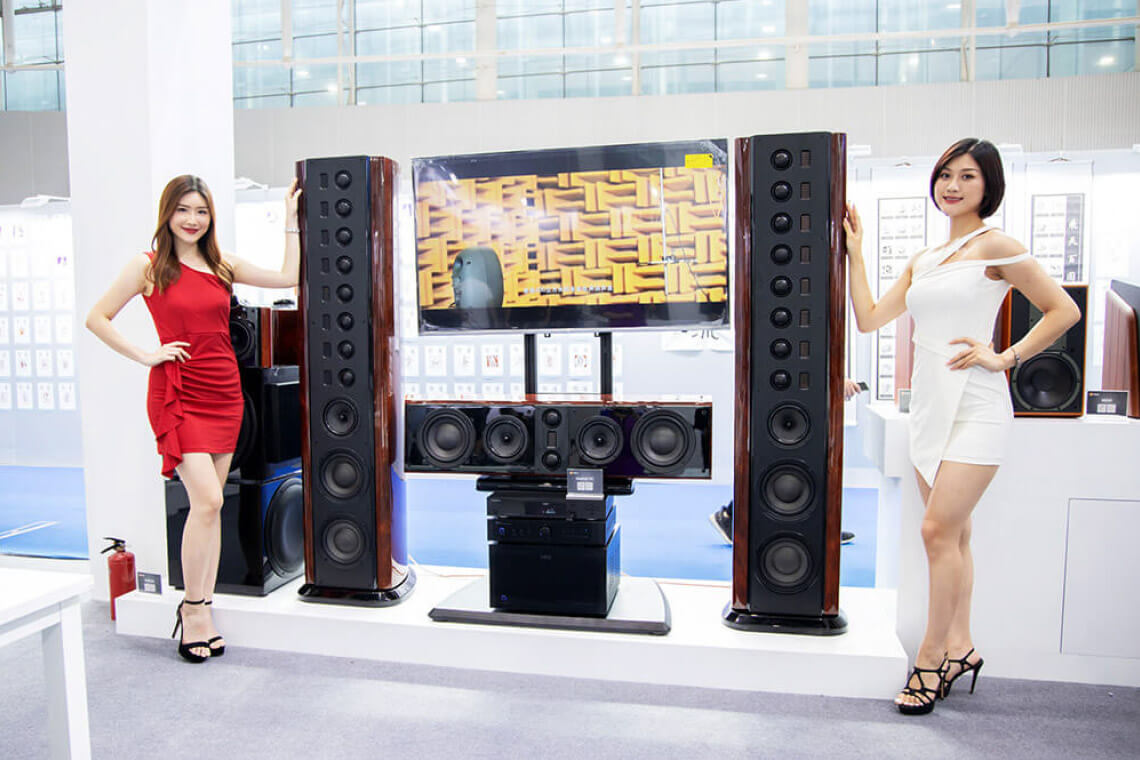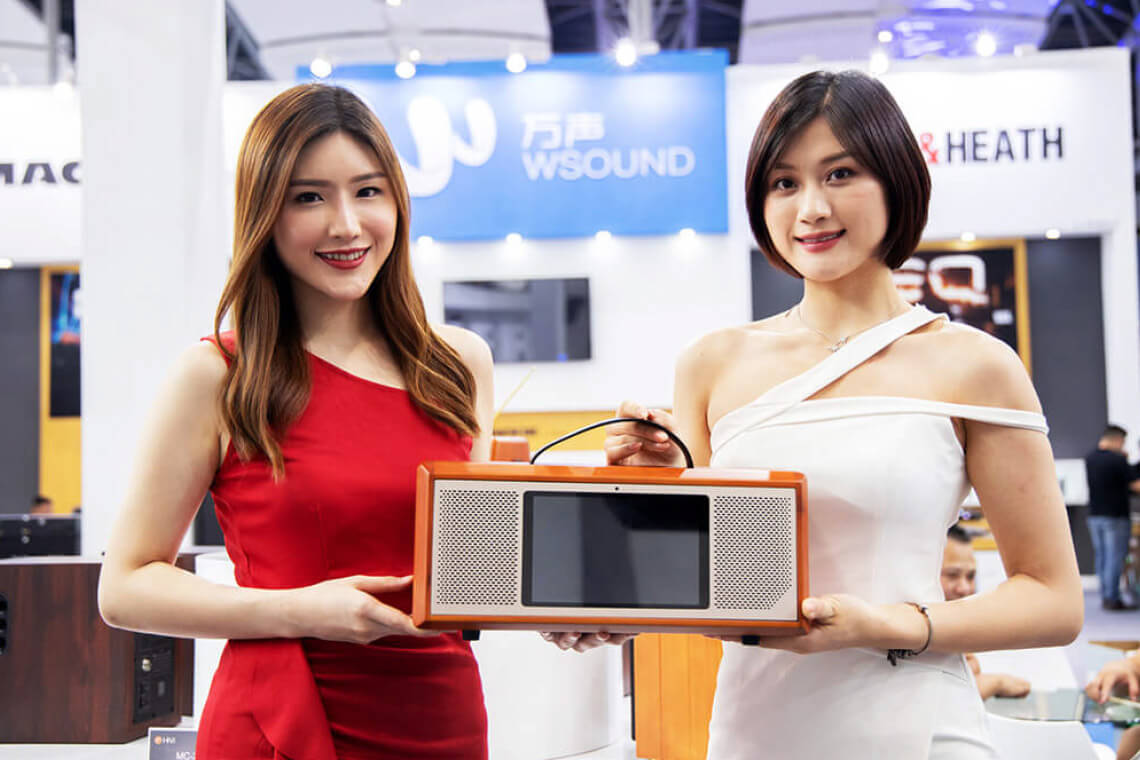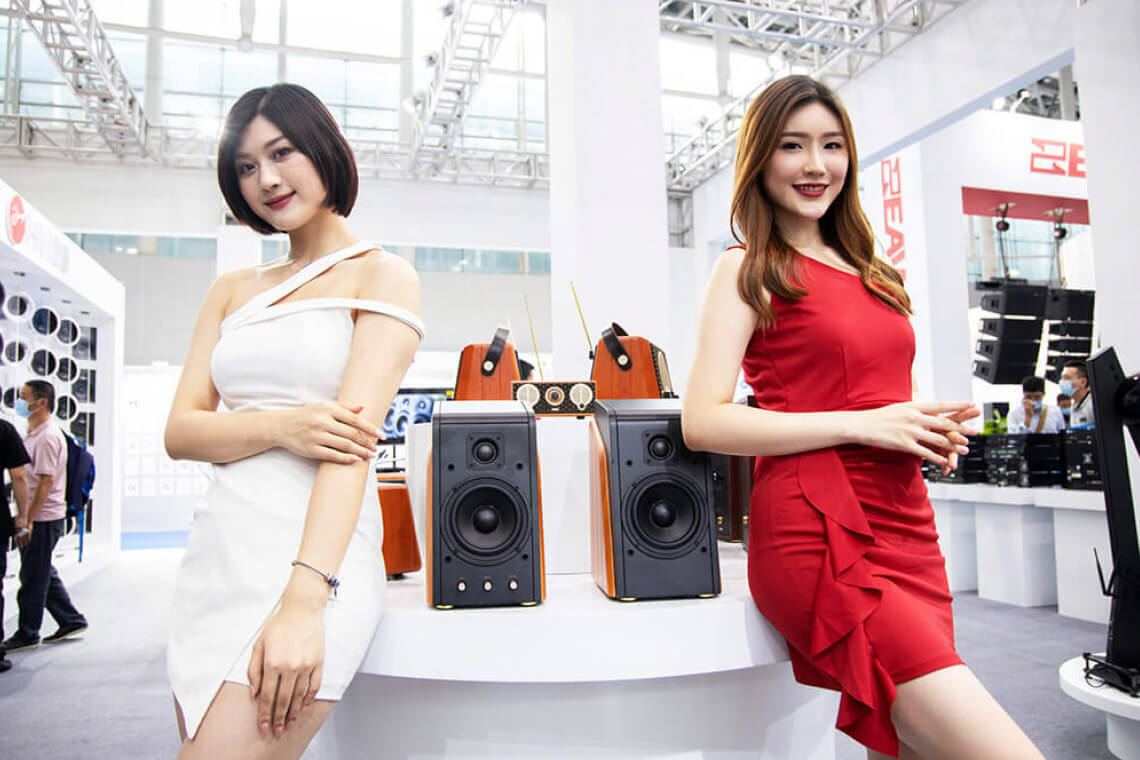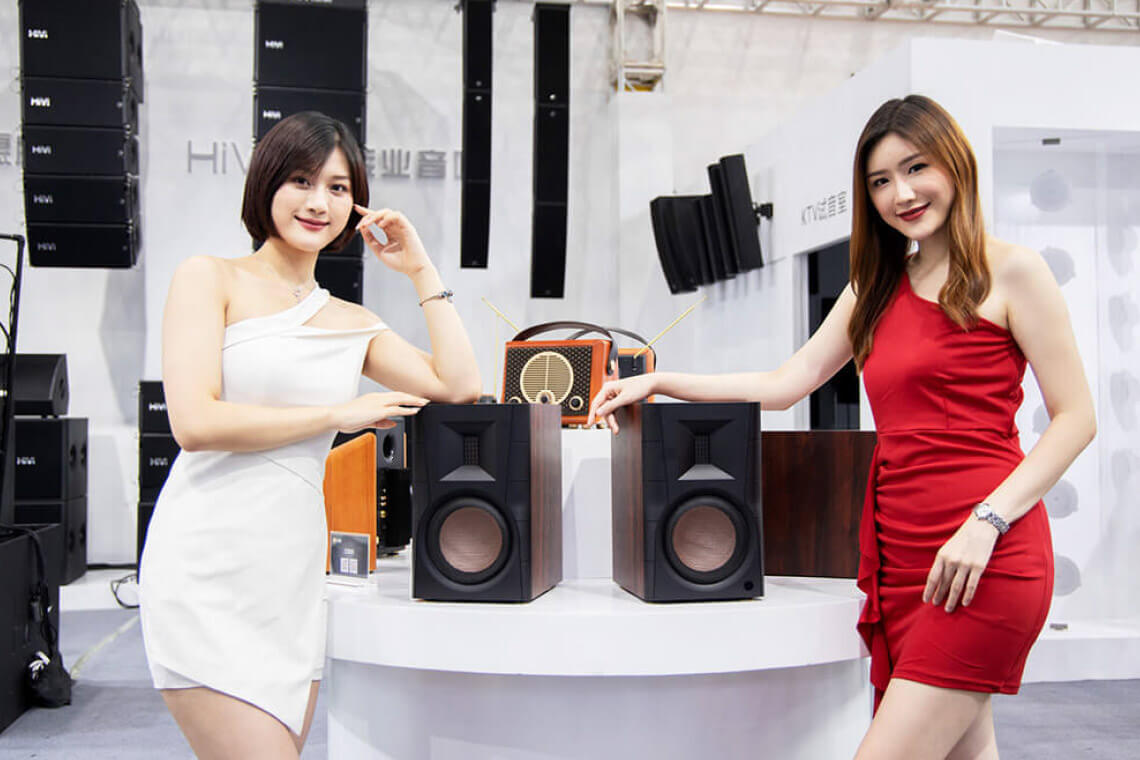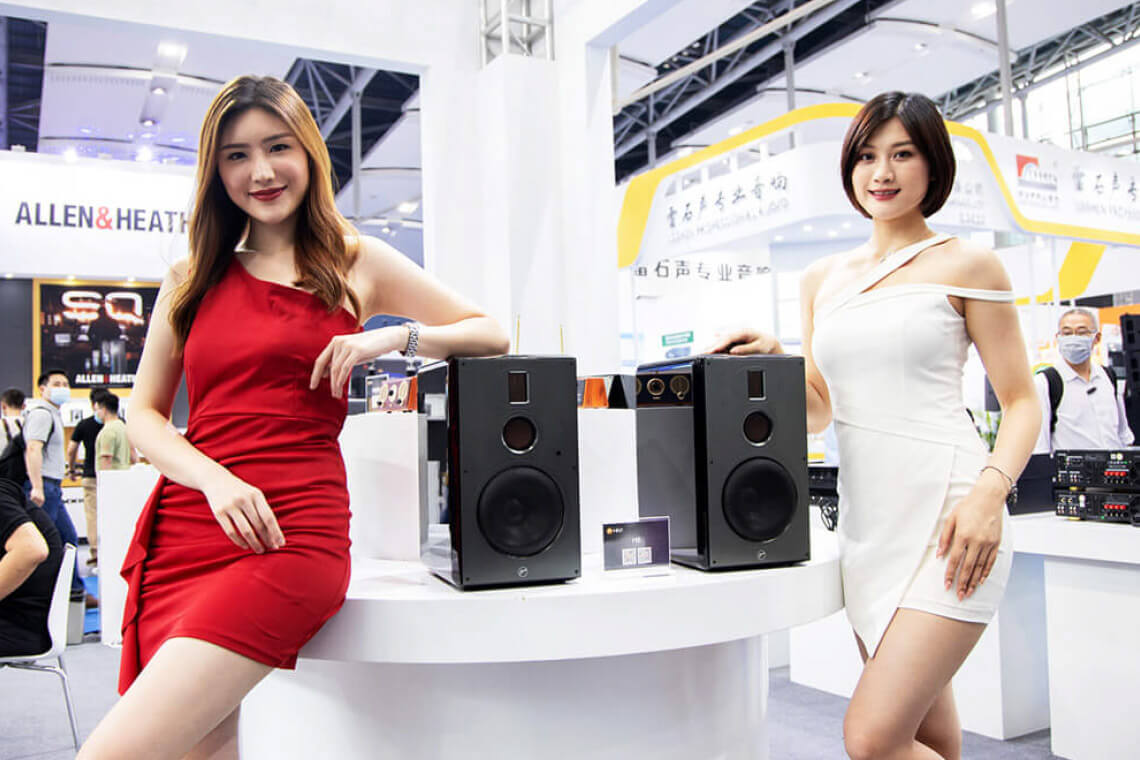 Let us take a look at the C-position MS2, which has a complete set of built-in input ports, which not only can be easily connected to various mobile digital devices, but is also compatible with traditional audio input. With a contemporary and simple appearance, it can be called a set of almost perfect sound quality. Sound system from the future.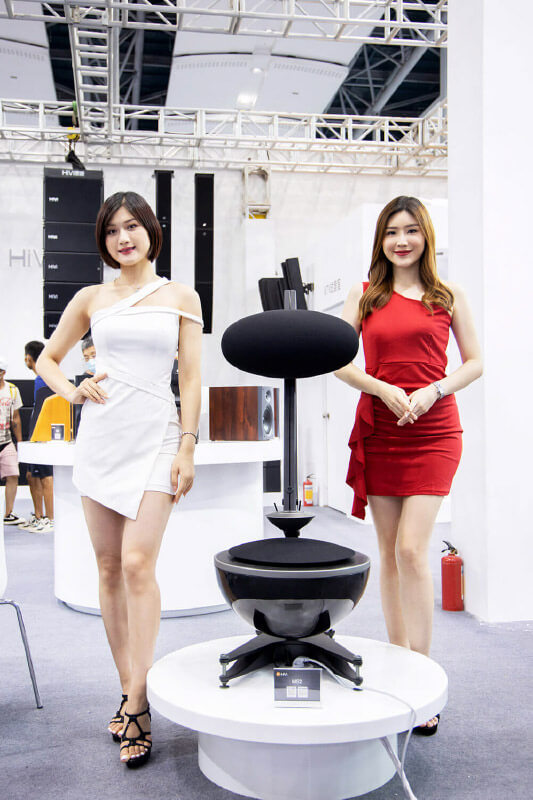 This is M5A with an 8-inch large-diameter woofer. It can create a powerful and dynamic low-frequency. At the same time, the isodynamic tweeter and the aluminum-magnesium alloy midrange unit are jointly creating an impressive high-quality sound. With multiple interface of Bluetooth and Wi-Fi input and other connection methods, it allows users to have more choices and more convenient listening operations.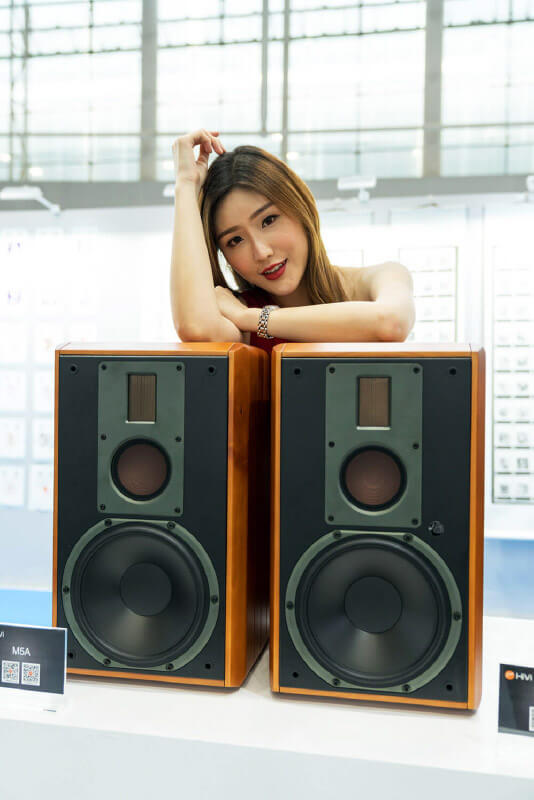 In addition to the above products, there are also high-value retro classical series products M2R, M4R Bluetooth FM radio active speakers. This series of products have both radio function and Bluetooth function, low-resonance solid wood cabinet, optimized tilt elevation design, independent sound cavity, classic and stylish appearance. Hivi professional speaker unit can allow you to enjoy music anytime and anywhere!