!
Oops... HiVi SWANS no longer supports this browser. To ensure network security and user experience, please
upgrade
to IE11/EDGE for the best experience.
SWANS COAXIAL SPEAKER
sounding, synchronous propagation
TM6 Mid-Treble Convex Ribbon Coaxial Speaker
Resonance cancellation provides excellent bass accuracy and control
The convex ribbon tweeter designed by Swan patented technology, the diaphragm is made of flat voice coil wire and high temperature resistant Kapton film composite hot pressing molding, built-in high damping heat resistant glass fiber cotton, the front carefully designed EQ acoustic damper, to meet the superior Directivity performance; The special three-piece ring arc high-performance NdFeB magnets, combined with the magnetic circuit and rear cavity system composed of porous magnetic conductive plates, ensure the overall performance of the convex ribbon tweeter
Listen to all sounds for wide dispersion
accuracy and low distortion
Swan coaxial common-point unit locates the tweeter at the acoustic center of the mid-bass unit, so that the two are combined into a single common-point sound source, so that the sound coverage in the space is wider and more uniform. This technology breaks down the limitations of the sweet spot, allowing everyone in the space to experience the natural sound and enjoy the clear acoustic performance.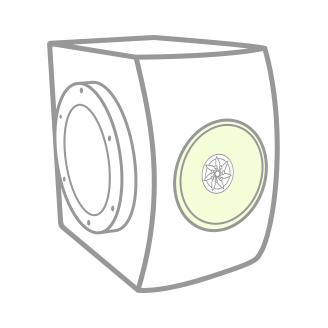 Low distortion sound with surging bass
The bass unit adopts aluminum magnesium alloy diaphragm with strong rigidity, which will not deform under large dynamic working conditions, has low distortion and good resolving power and is equipped with special EPDM material folding ring and highly stable centering support; The large-diameter 52mm high-temperature resistant copper voice coil cooperates with the aluminum voice coil framework to improve the power bearing capacity, so that it has a large linear sound pressure level output. The aluminum basin frame with high-strength finite element precision design eliminates adverse vibration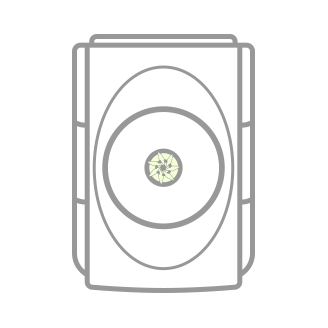 Sound synchronous propagation
The tweeter unit is set at the throat of the bass horn, so that each unit can work under the condition of common point, and its physical positioning is close to the point sound source. Therefore, the sound field positioning of replaying music is more ideal, which meets the characteristics of common point coaxial speaker of "sounding, synchronous propagation"